Promotional, Real Estate, & Political Yard Signs
View Sign Gallery
Looking to promote your business, event, or political campaign? Yard signs, also known as bandit signs or coroplast signs, are a low-cost, high-visibility way to promote a special event, educate potential customers and clients about your products, and support your favorite candidate.
Axe Signs & Wayfinding provides the cheapest, fastest yard signs in Jupiter- put us to the test! Our custom manufacturing process and state-of-the-art equipment allows us to quickly and easily produce the yard signs, banners, or other promotional signage you need for your business or organization.
Business Promotion
Yard signs are effective for many different business promotion purposes, regardless of your business type. Whether you are a retail store, service provider, or non-profit, we can create attractive, impactful yard signs that build your brand and business visibility in a unique way.
They can be used to:
Build visibility for a special event such as vacation bible school, walk-a-thons, or craft fairs
Promote your business services
Advertise new or seasonal products
Used at your location to inform guests of important information, such as parking
Build awareness for your construction business while on-site
We handle everything, including custom design, if needed. If you have print ready files, we can often provide same or next day production, depending on the quantity of signs you need. Whether you are looking for a single color print or full-color signage, we have the skills, experience, and equipment to complete your project quickly and correctly, within your budget.
Real Estate Signs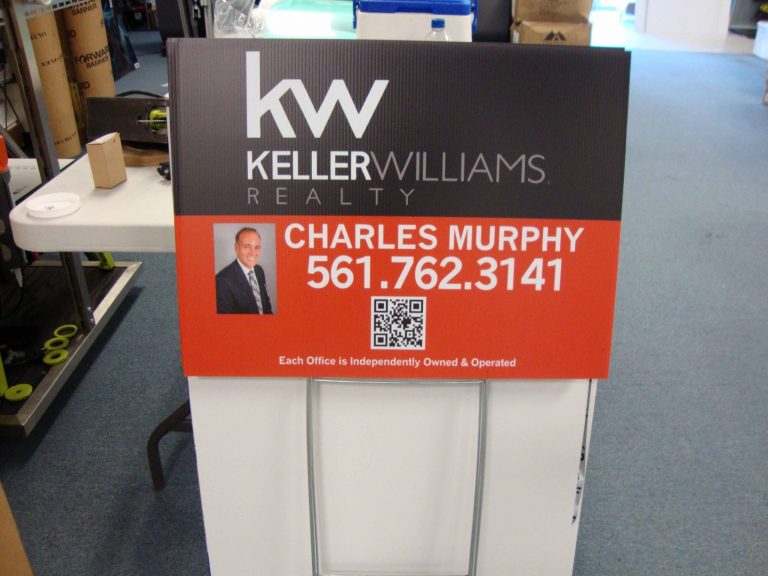 While many different businesses can utilize yard signs, real estate agents are one of the largest markets for custom yard signage. Used to advertise homes for sale, businesses for sale, and open houses, they often have customized yard signs that promote their brand. We can not only print your signs, we can source the unique real estate sign holders you need, as well as any other signage your business needs, such as storefront signs, outdoor banners, lobby signage, and more. Our goal is to be your sole-provider for all of your real estate signage needs.
Political & Campaign Signs
One of the most popular uses for yard signs, political campaigns frequently use these inexpensive and portable signs for promotion and to build candidate visibility amongst constituents. These signs are often given away at rallies, available for ordering on your campaign website, or handed out by supporters or the candidate themselves as they canvas their local neighborhoods. The repeated exposure to your campaign as voters pass your signs throughout their daily lives builds name recognition, allowing you a better chance of winning more votes.
We Make Yard Signs Fast & Easy
No ordering online, hoping they get the details right, and waiting for slow-as-molasses delivery. We have fast turn times, local pickup, and can produce a sample ahead of time so you are confident you are getting exactly what you want.
Contact Axe Signs & Wayfinding today at 561-220-1633 for your Free Consultation with a Yard Sign Specialist!