Commercial Business Signs
View Business Sign Gallery
If you want attractive business signs that help build your business and improve your bottom line, it is important to know that the right signage can help you do just that.
If you are looking for a leading designer of eye-catching, high-quality business signs guaranteed to improve traffic and grow sales you can trust Axe Signs & Wayfinding. We are a full-service sign manufacturing facility and will take your signage project from start to finish and handle everything from the free initial consultation to the professional installation, repairs, and maintenance.
Our local sign shop has talented sign fabricators, graphic designers, and installation experts who are ready to work creating business signs you can use to enhance brand visibility, improve sales, add location identification, and realize other business goals too.
Call Axe Signs & Wayfinding at 561-220-1633 for your Free Consultation with a Business Signs Specialist!
Commercial Building Signs
The storefront sign or building sign is often one of the first business signage elements that companies love investing in. The sign serves multiple purposes with business identification being the most obvious one. However, if it is done attractively and brand cohesive, it acts as the single largest traffic driver to your business, which is a big deal.
Besides driving new, targeted business, commercial exterior building signs are often required for you to get a business loan, which makes it a worthwhile investment for businesses of all types. Besides attached building signs, we can also create any freestanding signage for business identification you require or need, including pylon signs, monument signs, pole signs, and any other custom signs you want.
We offer attractive business building signs for promoting your brand, attracting more customers, and helping you secure the necessary funding to start or continue offering amazing services and products to your clients.
Need cohesive interior signs to match? We've got you covered!
Signs for Business Promotion
Besides business identification signage, we also offer every business promotion sign that your business may possibly require. We create promotional window signs, flag signs, outdoor banners, a-frame signs, POP signage, indoor banners, trade show displays, real estate signs, yard signs, vehicle wraps, and more. If you can conjure up a use for a sign, we are glad to help bring it to life for you!
You can use promotional signage both indoors and outdoors, and both off-site and on-site. The promotional signage that you use and the specific mix depends on your business marketing goals. We provide complete on-site analysis of your business signage requirements to make sure that you get the right signs that match your budget and desires.
Free Business Signs Consultation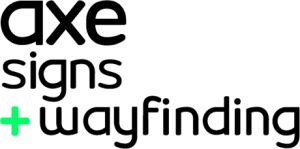 If you want attractive, cohesive business signs designed to help you accomplish your business goals, you can trust Axe Signs & Wayfinding. We offer exceptional support, fast turn times, and friendly local service and hope to become your long-term provider of commercial signage.
Call Axe Signs & Wayfinding at 561-220-1633 for a Free Consultation with a Business Signs Specialist!