Jupiter Sign Company
View Sign Gallery
If you are a business owner in Jupiter, FL, you know how important it is to stand out from the crowd. That's what a great sign will do for you, allow others to find your business and utilize it. At Axe Signs & Wayfinding, we don't just work on traditional signs – we work on custom signage, vinyl graphics, exterior signage, interior signage, and so much more.
We serve the greater Jupiter, FL area, handling all aspects of sign making. Your sign project is handled by locals who know the businesses, know what attracts attention, and know the local guidelines regarding sign installation.
We are a sign manufacturing company that provides you with all aspects of the sign making process, from designing custom signage to installing signs in your chosen location. Our sign store welcomes you to stop in or call anytime for an initial conversation and consultation to discuss how impactful signage can help you attract more business and market your brand.
At Axe Signs & Wayfinding, we'll deliver your signage on time, within your budget, and just how you expected.
Single Signs or Cohesive Collections
What kind of signage are you looking for? Our sign company has a vast amount of experience in designing, manufacturing, and installing signs that will entice people to your retail location, excite them about what you can do, and even educate them about what to expect from you. Our sign manufacturing company takes on projects of all sizes and scopes – whether you need a single sign or graphic element or you want a complete line of interior signs and exterior signs for your business.
Our graphic designers love taking on challenging projects and bringing in new ideas. If you already have plenty of ideas about what you want, don't hesitate to speak up and tell us. We make your ideas come to life, turning your branding efforts into a work of art. Whether you have a complete signage concept or simply an end goal in mind, we can help you develop impactful, eye-catching signage that works for your business.
From the initial design to production to installation, everything is handled in our state of the art facilities right here in Jupiter, FL and by our expertly trained workers. We have the tools, abilities, and skill to create the signs you need to effectively market and grow your business.
Every Sign Your Business Needs
Signs are important in all businesses, something that connects us across industries and niches. In particular, impactful signs for businesses will always have a place in business marketing. Whether you are promoting your business, a particular product, or a specific event, great signs are still the best way to gain interest.
We are passionate about creating effective signage for business growth, and that is something you will see immediately when you work with us. We want to become your sole signage provider, not just for your immediate signage needs, but for the lifetime of your business.
We work on the following projects:
Effective, branded vinyl banners, graphics, signs, and wraps deliver enhanced exposure for any type of business. If working to find a method for gaining interest for your shopfront, aiding buyers when navigating your space, or need to get more sales from your event attendance, our staff of vinyl signs and graphics specialists deliver the perfect vinyl signage for your needs.
We are your motivated, professional and devoted all-inclusive vinyl graphics firm, delivering high-quality sign, graphic, and banner services. We quickly personalize any style of promotional signage you need.
It doesn't matter if it's unique, personalized decals, wraps, lettering, banners, vinyl clings, floor graphics, window graphics or a full vinyl sign and graphic set you are looking for, our vinyl signage team manage your custom signs and graphics promptly, skillfully, and with a keen eye to detail.
We Handle Everything
Very few sign shops handle all aspects of the process of creating signs. We do. When you call us, you can speak directly to the designer who is conceptualizing your sign, allowing you to get the perfect sign for your needs, every time, along with some peace of mind.
Free Consultation
We believe that a successful collaboration between your company and our company starts with the initial consultation. During the consultation, we will bring together our ideas and discuss your goals for your signage. Our expert consultants will recommend specific products and materials to meet your needs, providing you with pricing and lead times so you can make the right choice for your business.
Any ideas or thoughts you have on how you want your finished sign to look should can be shared with your consultant– even if you think your idea is impossible. Let us surprise you with our creative approach to problem-solving.
Sign Design
Once the consultation is complete, we turn all of our notes and ideas over to our staff of trained design professionals. Our experienced graphic designers will create a sample proof or mock-up of your design for review so that you can make edits prior to the production of your sign. We encourage you to look at this proof several times before giving your approval. First, take a critical look at the information it provides. Is the business name spelled right? Is the phone number correct? Does it provide all of the details your customers need to reach you? Next, take a critical look at the design. Are the appropriate elements used in the right places? Did we get the colors spot on? Last, look at it with fresh eyes. Is it compelling & attractive? Will you be proud to display this sign at your business? Once you have reviewed these elements, give us your feedback, so we can make your desired adjustments and produce a new proof for you. If we've missed the mark entirely, speak up, and we will start again from scratch, until you are happy with the sample and give us to go-ahead to send your sign to production.
Sign Creation
Once we have your approval of the proof, we hand everything over to our custom sign manufacturing team. This is where your sign, banner, wrap, or other signage product will be produced. Our custom sign shop is equipped with the latest in sign manufacturing technology, including a large-format flatbed printer, and we are proud of not only the quality of our work, but the versatility of products we are able to create for you. Everything is quality controlled and double-checked for accuracy before showing you our final product. The time needed to produce your sign will depend on the complexity of your project, but we will give you expected timeframes upfront and will do everything within our power to assure that your signs are completed correctly and on-time.
Sign Installation
We also provide complete sign installation services, whether your sign was produced by us or not. Our expert installation crew handles all types of signage, from something as complex as a backlit storefront sign to something as simple as room identification plaques. Our team of trained installers will ensure that everything looks amazing, is properly secured, and we will clean-up any mess created during the installation process, leaving you with a finished product ready to show the world. Some elements are easy enough to install that you can do them yourself, however, we guarantee our installation, so if something breaks, cracks, or doesn't work after/during installation, we will replace those elements at no charge to you. Since we know and work in the Jupiter area, we understand the local signage codes and will assist with any permitting you may need. You will never have a sign that you cannot use because of local laws.
Free Consultation with a Signage Expert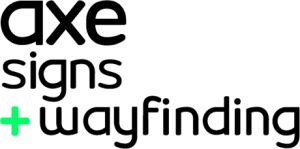 Here at Axe Signs & Wayfinding, we are committed to providing you with an outstanding experience and customer service beyond compare, regardless of the size of your project. We hope to not only produce the attractive, high-quality signs you need today, but to become a long-term partner for all of your sign and graphic needs.
Contact Axe Signs & Wayfinding today at 561-220-1633 for your Free Consultation with a Signs & Graphics expert!