West Palm Beach Custom Signs
View Custom Sign Gallery
Looking for a great sign but can't seem to find one that makes you excited? Axe Signs & Wayfinding is a custom sign shop that creates signs that you will fall in love with. Whether you know what you want or your custom signage design is a little hazy, our team will work with you every step of the way. Our custom signs are designed and built right here in West Palm Beach, FL, at our custom sign shop, so we can ensure everything is up to our standards and yours.
We know that custom sign printing has unique challenges due to the personal nature of taking someone's idea and transforming it into reality. Some business owners know exactly what they are looking for, can envision the sign in their head, but just can't seem to get it onto paper. Others simply have a vague idea of what they want to accomplish but aren't sure if it is feasible. No matter what stage you are in, we can help. Our custom sign designers work with you to determine how to best accomplish your goal, and can recommend specific materials and sign-making methods that will best bring your idea to life.
Unique Signage for All Businesses
Whether you have a special event, unique project, or are just looking for show-stopping signage, we can produce the right signs for your needs.
All of our sign projects are custom signs, made specific to a business, organization, or individual. Our designers work diligently to give you the unique look you need and deserve.
Some of our custom specialty signs include:
All of our interior sign and exterior signs are custom made, suited to the desires, location, and technical specs of our clients. Whether you need a single sign, 50 of one sign, or 50 different signs, we have the skills, tools, and experience to create the right signs for your needs. Custom signage is the perfect way to truly display the personality of your brand and attract targeted buyers into your business. We help you get the attractive, eye-catching signs you need for business success.
Our Custom Sign Process
Custom specialty signs tell the general public who you are and what you do. Our designers will help you get what you really need out of your signs. We will talk to you about your goals and ideas, make suggestions, and then start to form a mental image of what your final sign will look like, and the individual elements needed to create it. We will then create a digital "mock-up" of your sign for your review and approval. You can make as many changes as you want to the mock-up, including changing shapes, sizes, colors, fonts, and even materials. We will adjust the sign design until you are completely satisfied.
Once the design is complete, our talented staff of sign fabricators will begin creating and prepping your signage elements for installation, to be performed by us or by you, depending on the type and complexity of your sign. Some sign products are simple enough for you to install, while others are better left to a professional for safety or technical reasons.
Our designers love working with custom signage because it really gives them a chance to show what they can do, so you can always expect our best when you hire us for custom business signs in West Palm Beach.
Free Consultation with a Sign Expert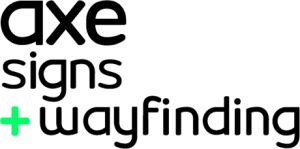 We provide the custom support and technical skill to provide you with the custom signage you've always wanted. Whether you know what you want, or you need help with graphics and design, our team will fully support you, for this and all future signage projects.
Call Axe Signs & Wayfinding at 561-220-1633 for your Free Consultation with a Custom Sign Specialist!