Royal Palm Beach Vinyl Signs
View Vinyl Sign Gallery
If you desire a unique sign for your business, vinyl signs and vinyl lettering are some of the most versatile signs we create. Vinyl can be used to add intrigue or information to just about any part of your Royal Palm Beach, FL business, from the doors and windows to the walls and floors of your facility. Vinyl graphics create a polished and professional look. Vinyl banners, custom vinyl graphics, and vinyl window clings all have a special place in your business and marketing plan.
Our custom vinyl signs and graphics have unlimited uses, but the most popular are:
Vinyl Graphics Options
Vinyl graphics are extremely versatile not only in the ways they can be used but also in the variety of color, weight, and style options. We listen to your needs, consider the available options, and highlight which ones will work best for your project. Vinyl provides us with a large amount of design flexibility, allowing us to create any number of custom signs for business.
We can create reverse door clings and double-sided vinyl window clings. You can get wall murals, floor clings, and other options that work in high traffic areas. If you have a special or unique sign, Axe Signs & Wayfinding is here for you!



Professional Vinyl Sign Company
As a vinyl sign company, we know the impact that a professional vinyl sign can make. Using handwritten signs or even signs printed on computer paper makes your business look unprofessional, which can negatively impact public opinion of your services. Vinyl signs will look more streamlined and professional, giving the impression that you care about your business, and are ready to provide them with high-quality products and services.
Vinyl signs are not only great for business promotion; there are many other applications where they can assist with your business operations. There is specific information that you need to provide your patrons, including your hours of operation, accessibility features, Wi-Fi availability, and other information that remains consistent over the years. This information is typically displayed front and center on your entrance doors so that guests don't have to ask questions and interrupt the day to day flow of your business.
Window Display Vinyl
Window vinyl graphics are multipurpose and can be some of the most innovative pieces we produce. You can use custom vinyl graphics to decorate your space and attract new customers, or to create privacy inside your business through the use of etched or frosted privacy film.
Window graphics can promote your sales and business through colorful graphics, bold words, and high-quality finishing. You can announce sales, highlight your benefits, and even introduce your services to the world. Use holiday themed window clings to decorate your business because they are so easy to remove and install. Window graphics are engaging and exciting, telling passerby what they can expect if they choose to go inside your business.
You can also make your space more private using vinyl window clings. Cover your windows with custom vinyl featuring a frosted or etched glass look that can be removed if needed or desired. These clings look just like frosted or etched glass, but without the permanency or expense. These attractive, professional window clings still let light into your business while protecting the privacy of those inside. Privacy film is great for health offices, lawyers, real estate offices, and other professionals where you may still want the light, but prefer to protect the identity of your patrons. Once again, you can customize these graphics to suit your needs, including adding logos, business identification, and more at any time.
Attractive Wall Murals and Flooring
Vinyl wall murals have many different purposes – they can hide flaws in your existing walls, add interest to a blank space, or even provide information. We have created many different types of vinyl wall murals, for many different business types.
Our custom designed graphics combined with high-performance materials allows us to create wall murals that stand out and stay bright and colorful over the years. Inside or outside, these murals can do whatever you want them to do – tell the story of your business, display a special message, or add interest to a boring hall or walkway.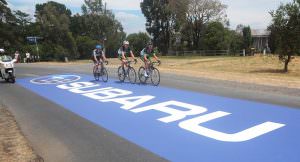 Our vinyl sign business also creates vinyl floor graphics that can be applied to any flat surface, including concrete, blacktop, tile, hardwood, and carpeting!
Vinyl floor graphics can serve many purposes for a business or organization, such as denoting a special parking space for the president, adding color and interest to your facilities, helping with the flow of traffic, or even creating a show-stopping lobby. We've had a lot of success with sprucing up colder, more industrial spaces that have been converted into offices or retail space, helping to cover old tile, and even covering gym floors.
Floor graphics are made to stand up to foot traffic and even traffic from vehicles, so we use only the highest-quality, most durable vinyl for these applications.
Full-Service Vinyl Graphic Shop
Our team at Axe Signs & Wayfinding is ready to handle all of your vinyl sign needs, including the design, production, and installation. You may not even come to us realizing that it is a vinyl sign that you need! We'll discuss your signage goals and intended use with you to determine what products will work best for your needs. Our expert graphic designers will then take over your project, working to create a print-ready file of the right size and format for use with our custom sign production equipment. Prior to production, you will have the opportunity to preview and make adjustments to your design, including verifying that all information is correct and that all elements you need will be included.
Upon approval of your design, your custom sign will then move to our in-house production facility where our expert craftsmen will manufacture your signage elements and prep them for installation. Depending on the type and complexity of your design, we can provide complete installation services, or can provide you with the printed vinyl for self-install.
Vinyl graphics are easy to replace and repair. We are available to assist with any vinyl repairs or maintenance, regardless of where you had your vinyl originally manufactured.
Free Consultation with a Vinyl Expert
Axe Signs & Wayfinding is Royal Palm Beach's leading provider of vinyl signs & graphics and we are ready to produce attractive and durable vinyl graphics for all of your marketing, promotional, and brand identification needs.
Call Axe Signs & Wayfinding at 561-220-1633 for your Free Consultation with a Vinyl Graphics Specialist!