West Palm Beach Sign Company
View Sign Gallery
If you own a business in West Palm Beach, FL, then you know that a compelling sign is necessary to stand out amongst your competition.
Here at Infinity Signs and Graphix, we are a complete sign shop offering traditional signs, custom signage, vehicle wraps, vinyl graphics, exterior signage, interior signage, and so much more. We serve the greater West Palm Beach Florida area, handling all aspects of sign making.
At Infinity Signs and Graphix, we create the perfect business signs for your needs, in-line with your brand standards, business needs, and budget.
Single Signs or Cohesive Collections
Do you have different signage needs but don't know where to go? Our sign manufacturing company works on sign projects of all sizes and scopes, from single signs or graphic elements, to complete sets of cohesive signage for your business, both indoors and out. Our sign company knows that the right signs for your business will entice people to enter your business, excite them about what you have to offer, and even educate them about what they can expect from you.
Design, production, and installation of your custom business signs are typically done on site at our sign manufacturing facilities right here in Florida, by our expertly trained team. Well equipped with the tools, abilities, and skills to create the signs you need, we are prepared to tackle even the most challenging sign project for your business.
Every Sign Your Business Needs
Signs play a large role in all businesses, regardless of your particular business needs or goals. Whether you are promoting your business in general, a specific event, or a particular product, great signs can help you attract more attention and build awareness of your brand.
We are passionate about creating effective signage for business growth, and that is something you will see immediately when you work with us. We want to become your sole signage provider, not just for your immediate signage needs, but for the lifetime of your business.
We work on the following projects:
We Handle Everything
We work on all aspects of sign creations! Once you give us a call, our designers are always ready to talk to you in order to conceptualize your sign design, allowing us to craft the perfect sign suitable for your business' needs every time.
Consultation to Installation and Beyond
Because we believe that a successful collaboration between your company and our company begins with the initial consultation, we see to it that during our consultation, all ideas and goals for your signage will be talked about. We have sign professionals ready to give their recommendation on which products and materials that will best suit your desires, providing you with options so that you can make the best choice for your business.
Our design professionals will take on the project after the consultation process. A mock-up will be created for your review. During this stage, any corrections need to be made, so we can manufacture impeccable signage. We urge you to carefully check all details, information, and the sign as a whole so we can ensure everything is exactly how you want it. If we've missed the mark entirely, just let us know, and we can go back to the drawing board until we are both happy with the design.
From there, your sign will move to our talented sign manufacturing team for production and sourcing of all elements needed for final sign creation. The time needed to produce your sign depends on the complexity of your project, but we will give you expected time frames up front and will do everything we can to assure that your signs are accurately finished to your specifications, and delivered on-time.
Our sign installation experts can assist with installation of any sign type, whether it be backlight channel letter signs, custom lobby vinyl signs, vehicle graphics, or any other signage you need assistance with installing. We understand the local codes and signage restrictions, and can even help with permitting, as well as repairs or maintenance if needed at any time.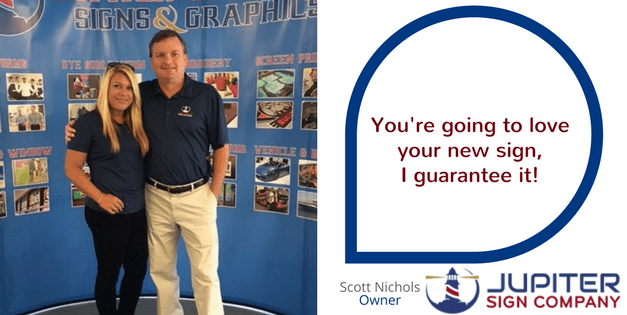 Free Consultation with a Signage Expert
Here at Infinity Signs and Graphix, it is our goal to give you an outstanding experience and customer service beyond compare, regardless of the size of your project. It is our aim to not only create effective signs for you but to also be your sign shop partner for the years to come.
Contact Infinity Signs and Graphix today at (561) 220-1633 for your Free Consultation with a Signs & Graphics expert!