Royal Palm Beach Vehicle Wraps
View Wrap Gallery
One of our specialties here at Axe Signs & Wayfinding is auto wraps for business vehicles, vinyl graphics, and car decals. Branding your vehicles through the use of vinyl vehicle wraps and auto decals is becoming an increasingly popular ways to advertise, especially if you are always on the go. Car wrapping takes your vehicle and turns it into a billboard, displaying your business information and highlighting your brand wherever you go. This broad range of visibility makes it a great option for Royal Palm Beach businesses of all sizes. Whether you want a single vehicle magnet or you need complete, full-coverage vehicle wraps for your entire fleet; we are here to help.

Commercial Fleet Graphics & Wraps
Vinyl wraps on your business vehicles not only advertise who you are and give your business a wider range of visibility, but they also give legitimacy to your staff. Many industries can benefit from fleet vehicle wraps, especially those who visit clients at their home or spend time frequently traveling. A branded fleet vehicle helps reinforce that your representative is who they say they are, providing your clients with comfort and peace of mind when an unknown person knocks on their door.
Popular Across Many Industries
Some of the most popular industries that utilize business car wraps are landscapers, electricians, roofers, independent contractors, plumbers, handymen, internet installers, cable companies, pest control specialists, repair technicians, delivery vehicles, and dry cleaners, although many other industries can also benefit from a well-designed vehicle wrap. We even do custom design food truck wraps!
As Simple or Complex as You Desire
Business vehicle wraps can be as simple or complex as you want them to be. Our custom wraps allow you to place your logo, photos, text, and any other elements directly onto your vehicle. Our team at Axe Signs & Wayfinding uses the highest quality vehicle wrap tools and materials to cover your car, providing protective benefits in addition to promotional benefits.
Vinyl Graphics, Partial Wraps, & Magnets
If you don't want to get a full car wrap, that's fine; you can still use your car as a way to promote your Royal Palm Beach, FL business. Vinyl graphics, partial wraps, and vehicle magnets are all different options for those who desire a smaller impact, or with a smaller budget.
Partial Car Wraps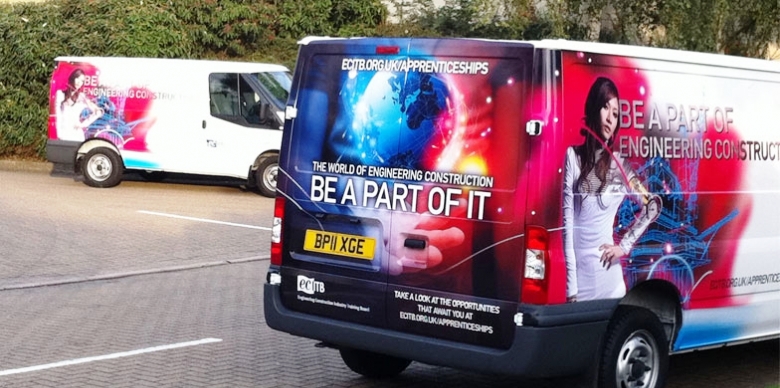 Partial car wraps allow you to target specific portions of your vehicle to use for promotion, such as the hood, tailgate, door, side panel, bumper, or any part you want to isolate. The partial wrap is applied to the entire targeted surface of your vehicle with the edges wrapping along the natural joints, giving the appearance of factory application. This can allow you to get the look you are going for without the cost of a complete wrap, especially if you have a minimalist design.
Vinyl Graphics
This can also be accomplished through vinyl graphics rather than wrapping. While wrapping will give you a seamless application from edge to edge, vinyl graphics are cut to the edge of the image, meaning that only the graphic is applied to your vehicle, rather than an entire sheet of vinyl. This greatly increases your flexibility for design, as individual elements can be removed, updated, and changed at any time, and are great for single image or minimal text vehicle graphic applications.
Vehicle Magnets
Looking for a removable vehicle graphics option? Some contractors may represent different companies, or may have restrictions regarding signage in their neighborhood, making it necessary to remove and replace vehicle signs quickly and easily. If you are looking for an affordable, easy to remove/replace option, then ask us about our custom vehicle magnets. Our custom vehicle magnets are available in a wide variety of sizes and shapes and are completely customized to your desires.
Cohesive Vehicle Graphics
Regardless of what vehicle types you use for business or how many, our vehicle graphics designers and vehicle wrapping team can design, produce, and install custom wraps on virtually any surface, including:
We work diligently to create the perfect auto graphics and wraps for cars for your vehicle and business, providing you with maximum exposure and continuity on any vehicle. Not only can we wrap vehicles of all shapes and sizes, but we can also take a single wrap design and modify it for use over many different vehicle types, allowing you to wrap your entire fleet with a consistent message.
Promotional Ad Wraps for Vehicles
Vehicle wraps are not only for those who visit clients in their home, but they can also be used by any Royal Palm Beach business for promotional purposes. If you are looking for a unique way to promote your business at all hours of the day without having to expend any extra work, custom auto wraps and promotional business auto wraps can be extremely helpful. Our wraps are beautiful, protective, and always contain the right amount of information.
Maybe you don't have a storefront or your business isn't located in a central part of town, it can be difficult to really spread the word about your company. Maybe you work from home and don't have a retail location of your own – whatever the case may be, car graphics and vehicle wraps give you the chance to spread the word about your business and build brand recognition.
If you are looking for a complete transformation, we can even provide wrap options that include perforated film for windows, providing a complete, seamless look, or can provide you with a simple color change wrap if you just desire a fresh look.
Custom Boat Wraps
Promoting your business on land, on sea, and everywhere in between is easy with our marine-grade vinyl custom boat and trailer wraps. These wraps help you to brand a company yacht, fishing boat, personal watercraft, and other equipment with ease. The heavy-grade, durable adhesive won't wear off with salt water or sand. This is also a good idea for trucks, trailers, and jeeps that operate near the water as well. Everyone wants to be the guy on the boat, so displaying your business name proudly on your watercraft projects a positive image of success for your brand.
Boat Identification Numbers
Boats and other maritime vehicles need to have numbers printed on the side for the boat licensing and identification. Our team can apply vinyl graphics or letters to your boat so that you stay on the right side of the law. Identifications numbers, licenses, and other critical information will be produced at the correct size and properly placed to ensure you are compliant.
Boat-based Businesses
These are also ideal for those who run charter fishing, whale watching, parasailing, or other businesses directly from their boat. It can help them to be quickly identified when looking for the right place on the dock, and serves as a marketing tool as you zip past the beach, laughing and having a good time.
Full-Service Vehicle Wrapping
Our team of vehicle wrap specialists is here to assist you through every step of the vehicle wrapping process. We start with a consultation where we will talk to you about what kind of vehicles you have, what your purpose is for getting the wrap, and your wrap design ideas. We'll discuss coverage, specific details, and even the colors you want. Our designers then take your idea and produce a "mock up" of what your vehicle will look like so that you can make any edits or changes that you want. Our mock-up shows the design right on your vehicle so that there isn't any discrepancy in what you will get.
After you approve the design, we move into the wrap production process, where we fabricate any needed graphics for application to your vehicle. Once all elements are produced, we will schedule a time for you to drop of your vehicle at our in-house vehicle installation facility. We will take the high-quality and durable vinyl wrap and install it carefully onto your car, ensuring a precise and durable application.
If at any time, your vehicle wrap is damaged or you need a replacement, we can help. Our wrap repair services extend the life of your vehicle wrap. We can replace entire wraps, removing the wrap carefully so that there isn't any damage and then replacing it with another wrap and returning your car back to you. If there is ever a time when your information changes, we can make updates and adjustments your wraps as well. Here at Axe Signs & Wayfinding, we are Royal Palm Beach's single provider for all your vehicle wrap needs!
Free Consultation with a Wrap Expert
No matter how many vehicles are in your fleet and the type, we create durable, attractive vehicle wraps that advertise your business, promote your brand, and give your business a professional appearance.
Call Axe Signs & Wayfinding at 561-220-1633 for your Free Consultation with a Vehicle Wrap Specialist!