Commercial Building Signs
View Building Sign Gallery
The front of your business is the best place to create a lasting impression with your customers, and a stylish, attractive business sign is the key.
At Axe Signs & Wayfinding, we make sure that initial impression is an outstanding one!
With high-quality materials and tailor-made designs, we create business signs that will provide important distinction in this competitive age of modern commerce. Our signs will attract more eyeballs and hence more patrons which will soon cover your investment and then some.
If you are looking for signs to publicize your brand of service or products or looking to create a promotional campaign, we have the skills, materials, and experience to maximize your ROIs with a top-quality product.
Call Axe Signs & Wayfinding at 561-220-1633 for your Free Consultation with a Building Signs Expert!
The Right Sign for Your Building
We offer a wide variety of business signs to suit every need. Your specific business, locations, competition, target audience and products or services, calls for a very specific type of business sign. Our building sign specialists will take all these factors into consideration and provide the best options for your needs and budget.
You can count on an onsite evaluation as well. Signs must be carefully crafted to the dimensions and location. We handle all aspects of your signage needs from initial drafts and plans, fabrication and the final production and installation of our signs. If any repair work or maintenance is needed to keep them in prime condition, we will be there to help.
Types of Building Signs
After a review of your needs and location, our building sign specialists will make some recommendations. It is essential that your sign is visible through all the environmental elements that may be in the vicinity. Furthermore, it is important that the design and style of your sign accomplishes its purpose and reaches the target audience. This can be done by achieving a harmonious flow with the other signs and colors in the area, or a completely contrasting look. Either way, we'll find the most effective way to accomplish your purpose.
The signs we make are all custom made for our clients so you can be sure that yours will look absolutely unique when completed, even if there are similar signs in the vicinity.
Channel Letters & Dimensional Letters
Channel letters and dimensional letters are versatile and durable choice of business sign. These features make this business sign option applicable to many businesses in different industries. These can be custom designed to feature a wide variety of colors, designs, logos, and lettering.
Channel letters and dimensional lettering can also be illuminated in various ways for good visibility at all hours of the day.
Lighted Signs
Lighted signs have the unique advantage of being your publicity tool 24/7. There are many different ways that a sign can be illuminated including backlighting or inner lighting. Channel lettering is typically backlit, and this provides some very attractive silhouettes. Cabinet signs have interior lighting that illuminates the entire face making them very visible. Lighted signs are essential for those businesses that keep late operating hours. This includes convenience stores, theaters, gas stations and any other business that might have a customer roaming the streets at night.
Projecting Signs, Hanging Signs & Blade Signs
This type of sign protrudes from the front of the building at right angles, making it more visible to traffic that is passing in front. These can be cabinet signs with either back or interior lighting options. These can also be made from a variety of different materials to achieve the best results for the locations and business. There are metal and wooden signs as well as some stylish designs made of top-quality high-density polyurethane foam. These are the best options for businesses that have offices and locations on the higher levels of the building. Lawyers offices, private investigations firms, photo studios and more can benefit from the projecting business sign.
Canopy & Awning Signs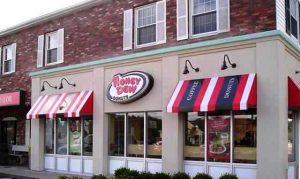 Canopy and awning signs have several important advantages to the brick and mortar location. Extending over the front door, they provide shade and protection from rain and sunlight. This improves the visitor experience and can even protect delicate display items from the UV rays.
These signs are also very durable and can be counted on for quality service for years with proper maintenance. Canopy signs are also the sophisticated and opulent option. This makes them ideal for those sophisticated outlets supplying discerning customers with valuable products and services.
Free Building Sign Consultation
Axe Signs & Wayfinding is thrilled to be your partner for all your business signage needs. We know that making a good impression with curious customers is essential for expanding your customer base and have the skills and experience to get you exactly what your need.
Call Axe Signs & Wayfinding at 561-220-1633 for your Free Consultation with a Building Signs Expert!