Local Custom Channel Letters
View Channel Letter Sign Gallery
Also known as dimensional letters, channel letters are one of the top choices for building signage, regardless the industry and the size of the companies using them.
Thanks to their versatility, channel letter signs can match any brand guidelines or design specifications. Whether you prefer flat dimensional or lighted letters, or you need a solution to be in line with your brand identity, we can design and manufacture the perfect custom sign to suit your needs.
Axe Signs & Wayfinding is your local supplier of high-quality business signs, with fast turnaround times and careful manufacturing process within your budget limits.
Call Axe Signs & Wayfinding today at 561-220-1633 for a Free Channel Letter Sign Consultation!
Storefront Channel Letters
Most companies that contact us for their storefront signage ask for a channel letter sign. These three-dimensional signs are made from sheet metal, and they can take the shape of letters, numbers, symbols and even images. All these elements are carefully positioned on a raceway sign or directly on the wall of the building. The channel features a durable acrylic cover that can come in any color or transparency level, in order to create the custom look your business needs.
You can use channel letters to write your name, to display your logo, or even your slogan. We can offer you a wide choice of typefaces, colors and sizes, thus enabling you to find the perfect fit for your brand. If needed, we can manually form channels to obtain almost any image or graphic you may possibly imagine.
Channel letter signs are an ideal choice for many types of businesses and buildings such as shopping centers, schools, grocery stores, office buildings, and retail stores.
Dimensional Letters
Just like channel letters, dimensional letter signs are made from groups of individually manufactured elements. The difference is that dimensional letters don't have the hollow space inside allowing for lighting. They are cut from solid sheets of metal or other materials. These letters can come in many styles, shapes and sizes, so you can make them look just the way you need. Their thickness may vary from barely visible to several inches deep.
Axe Signs & Wayfinding makes eye-catching dimensional letter signs that match your other branding elements and promote your company in a professional and durable manner.
These signs are the perfect choice for retail stores and shopping centers, but also for manufacturing facilities and indoor signage.
Backlit & Illuminated Signs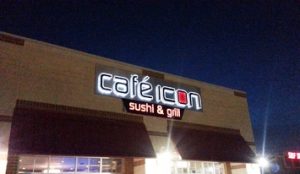 Illuminated or backlit channel letters can make you stand out from the crowd. LED lighting is visible at night and in foggy weather, letting potential customers know that you are there for them. We take care of all stages of the design, manufacturing and installation process, including securing your sign and wiring it to the power network. We can even provide signage cleaning and maintenance services, if needed.
If you run a business that's open during night time, you should consider installing a backlit sign, in order to be able to attract new clients at any time.
Lighted signs work very well for night bars, clubs, gas stations and convenience stores, but they suit any business that wants to attract attention and help people notice them easier.
Free Channel Letter Sign Consultation
Our mission is to provide you with excellent services, fast turnaround times, high-quality works, and seamless customer service. Our team of specialists will assist you along the entire way, for the success of your project. Axe Signs & Wayfinding is your reliable, long-term partner for all your signage needs.
Call Axe Signs & Wayfinding today at 561-220-1633 for a Free Channel Letter Sign Consultation!