Jupiter Outdoor & Exterior Signs
View Outdoor Sign Gallery
Axe Signs & Wayfinding is your single destination in Florida for all of your outdoor signage needs, including outdoor banners, storefront signs, and other exterior signs for businesses. We work to create impactful, sharp signs for businesses, organizations, and centers. Outdoor signs have to be the best of the best to bring potential customers and clients into your location.
A high-quality outdoor business sign will highlight your brand and tell your customers where you are and what you are all about. From neon signs and yard signs to outdoor digital signs and monument signs, you can trust our business to be there for yours.
Full-Service Exterior Sign Company
Axe Signs & Wayfinding offers a large selection of outdoor signs for businesses. We include you in the entire process of creating your exterior signage, including design, production, and installation. If you already have some signage, we utilize your existing signage elements for consistency, or our graphic designers can create an entire signage plan for your business.
You don't need to be a graphic designer or have one on staff to work with us. We provide complete design services, creating the right file type in the right size for fast printing on our sign equipment. We assist with design of outdoor banners, lighted exterior signs, real estate signs, storefront signage, and any other sign elements you may need. Our highly-skilled team of graphic designers are experts in designing any exterior signage for any company.
Our sign production facility, located right here in Jupiter, FL, ensures that all elements of your signage are properly manufactured and match your approved proof, as well as sourcing any elements needed for installation. If your sign requires permitting, we will begin that process for you during this time as well.
We also employ a full staff of expert sign installers, ready to ensure that your sign is properly installed, securely fastened, and that our work area is as clean as when we arrived. We know that the longevity of your sign can be greatly impacted by the quality of the installation, so we take every measure to ensure safe and complete installation.
Storefront Signs
There are many options for business storefront signs, and we can help make sure you have the right one for your business or organization! Not every business has the same needs, so we discuss your location, budget, and brand personality to ensure we are making recommendations that fit your needs, with a focus on longevity and durability.
Your storefront is the face of your business, so having an attractive, eye-catching sign that reflects your brand and what you stand for will help you to attract the right kind of clientele.
Channel Letter Storefront Signs
Our most frequent storefront sign request is for a channel letter sign. Channel letters are created through individual cut metal elements, such as letters, numbers, symbols, are images, that are perfectly aligned and secured to a backing frame. You can spell our your name, slogan, and even include your logo in this type of sign. You get a wide variety of color, size, font, and style options, making this an easy to customize sign for any business. These are most popular for retail stores, office buildings, grocery stores, malls, shopping centers, schools, churches, and other organizations.
Backlit Channel Letter Signs
With these types of signs, we can also provide LED backlighting to illuminate your business after dark. Our expert contractors provide complete, safe installation of all electrical elements, allowing you to feel confident that your sign will look great in all conditions.
LED lighting also uses less electricity that older lighting technology so it is less expensive any more environmentally-friendly to run.
These types of signs are ideal for businesses open late, such as nightclubs, theaters, restaurants, bars, coffee shops, comedy clubs, convenience stores, and gas stations.
Canopy & Awning Signs
Canopy signs are an attractive, unique way to display your brand and business name while also protecting your visitors and storefront from the elements. An awning sign can be made of many different materials, but commonly is created using a stretched canvas that provides an overhang to the entrance or windows of your business. These often have your business information printed directly onto the canvas, displaying your name, logo, or other branding message. Canopy signs are commonly chosen due to the boutique feel that they provide, and are popular for salons, jewelry stores, specialty shops, galleries, hotels, and shopping centers that desire (or require) uniformity.
Monument Signs
Monument signs are completely custom manufactured signs made of a durable material such as stone, marble, or brick typically found at the entrance to a business or facility. Monument signs are intended to express a quality of the business, such as their durability or longevity. These signs are large, permanent structures, either etched or featuring channel lettering displaying the business name or other important information. This impressive signage is often found at entrances to manufacturing plants, schools and universities, churches, private clubs, resorts, and corporate offices.
Pole Signs
Pole Signs stand tall and are often a complementary sign used to grab attention. They help to attract customers from far away or let customers know what businesses are included in a shopping center. Just as they sound, these are large signs mounted on a pole, also referred to as a pylon sign. Pole signs are able to reach a wider audience due to their large nature, often towering above competing signage, giving you a competitive advantage and the greatest opportunity to capture the most eyeballs. This sign is typically utilized by gas stations, fast food restaurants, shopping centers, and other high-traffic areas, such as near major roadways or interstates.
Exterior Signage
Regardless of your outdoor signage needs, we have the tools, resources, and experience to create the perfect sign for you. In addition to our storefront signs, we offer a complete line of custom outdoor signs, allowing you maximum brand exposure and event promotion.
Our other exterior signs include:
We are here for you every step of the way, with our expert staff ready to assist you in accomplishing your marketing goals for your business through impactful, attractive, and durable signage. In addition to exterior signage, we also offer cohesive, attractive interior signs to match!
Free Consultation with a Sign Expert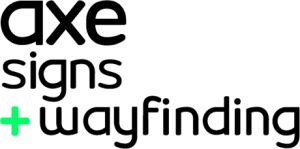 The exterior signs you use tells the world what kind of business you are. Make sure you are making the right first impression with attractive, durable, custom signs by Axe Signs & Wayfinding!
Call Axe Signs & Wayfinding at 561-220-1633 for a Free Consultation with an Exterior Sign Specialist!