Window Signs & Graphics
View Window Sign Gallery
Are you a service provider? Do you run a retail store or office building? If so, the front windows of your business can tell potential customers a lot about what's inside.
If you want to provide your patrons with privacy, want to educate potential customers about what your business has to offer or promote a special service or product, then high-quality window signs or vinyl graphics can help you to accomplish this goal.
Axe Signs & Wayfinding can help you to create eye-catching and attractive vinyl displays, graphics, and windows cling. As your local vinyl graphics partner, we can get your business and brand noticed.
Call Axe Signs & Wayfinding at 561-220-1633 for a Free Consultation with a Window Signs Expert!
Window Signs For All Businesses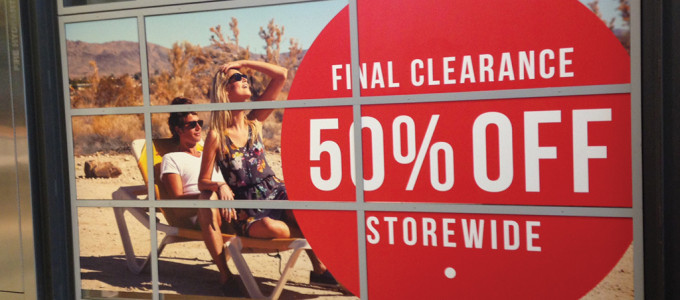 Axe Signs & Wayfinding creates the perfect window graphics and signs you need to meet your business needs. Our designers can create custom graphics that can get your business message to potential customers, matching your existing branding, and supporting your marketing goals.
Our window sign products include:
Vinyl Window Graphics
Vinyl Privacy Film
Full-Color Window Posters
Vinyl Window Lettering
Vinyl Window Clings
Sale/Promotional Banners
and Much More!




If you're not sure about which vinyl products meet your unique needs, that's no problem! During your Free Consultation, our window signs specialist can discuss your signage needs and recommend the best vinyl solutions for your business' location and budget.
Window Signs for Retail Stores
In successful retail stores, there's a good reason emphasis is placed on window displays. An eye-catching and appealing display can attract passersby. When you have a specific product to promote, a special sale or season promotion, you can use a window display to draw attention to your store.
Typically, a window display is updated each season, featuring the hottest and newest items available. However, we can provide your business with compelling and attractive graphics, banners, and signs that can help you promote non-seasonal products, sales, and events. These windows displays are a professional way to draw in customers for short and long-term use.
Privacy Window Vinyl for Offices
Businesses, such as real estate agents, therapists, counselors, and law firms, use privacy film for the exterior windows of their office buildings. We can provide your business with privacy film with a frosted or etched glass finish. Vinyl window film offers the same degree of privacy as frosted glass panes or panels without the permanence or the expense.
For branding purposes, many offices choose to have their business name, logo, or another image on their privacy film. We can create a unique design for your window film, or our designers can provide you with examples of some of the most popular vinyl film options. Our design experts can help you choose the right option for your business.
Window Signs for Service Providers
You don't need to have a physical product to sell to take advantage of the benefits offered by an impactful window display! Use a vinyl graphics of a special offer, your most profitable service, or a mural depicting how you can best help your desired customer to dress up your windows. Our full-service design shop can help you to create the perfect display for your windows. We can assist you with the creation and installation of your vinyl window sign or graphics.
Free Window Sign Consultation
Axe Signs & Wayfinding is here for you. We can guide you through the entire process from the initial design to the professional installation. We create professional and attractive window displays, graphics, and signs. Your business will be able to provide your current clients with privacy and attract more customer to your store or office building. Axe Signs & Wayfinding has the perfect solution for your business window problems and can help you meet your business' marketing goals.
Call Axe Signs & Wayfinding for a Free Phone Consultation with A Window Signs Expert today at 561-220-1633!